GUNS, GOD AND GOVERNMENT WORLD TOUR
The Guns, God and Government world tour was launched in support of Holy Wood's release. The tour began in October 2000 and ran until September 2001.

This was Marilyn Manson's first tour following the cancellation of his final tour dates supporting Mechanical Animals out of respect to the lives lost at Columbine High School.
Guns, God and Government attracted alot of attention following this and was protested by Christian groups and the general public who feared Marilyn Manson coming to their town following the media frenzy from Columbine.
One of the most talked about shows was Denver, Colorado on June 22, 2001 at Mile High Stadium, Manson's first show in Colorado after the Columbine High School shooting. Manson has talked about events of that day where he recieved multiple death threats, many protests took place to stop him performing. He also recieved calls from family and friends concerned about him performing at this show as the death threats continued through the day. Undercover secruity and police were brought in, everyone was on high alert as Manson took to the stage where he stood his ground and performed his show and luckily without any issue.

Two home media releases were produced by Marilyn Manson from this tour, the original "Guns, God And Government" features a compilation of footage from all over the world cut up into every song showcasing a multitude of elements from the tour. A Blu-Ray release "Live in L.A." was also released some years later which only features the high definition footage shot during a special show in L.A. for production of a tour documentary, the final show of the tour.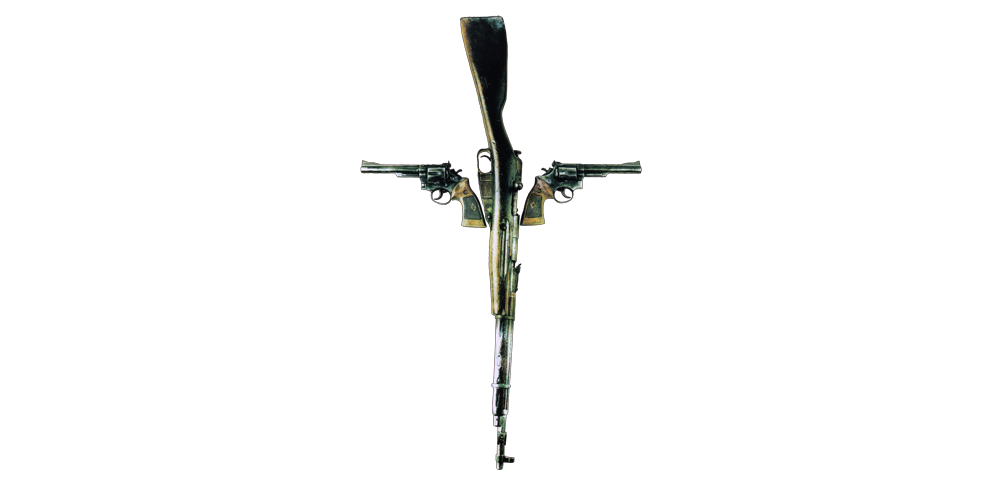 NORTH AMERICA

October 27, 2000 Minneapolis United States Orpheum Theatre
October 28, 2000 Milwaukee United States Eagles Ballroom
October 30, 2000 St. Louis United States Fox Theatre
October 31, 2000 Kansas City United States Kansas International Raceway
November 2, 2000 Tulsa United States Brady Theatre
November 3, 2000 Houston United States Aerial Theatre
November 4, 2000 New Orleans United States State Palace Theatre
November 6, 2000 Charlotte United States Independence Arena
November 7, 2000 Atlanta United States Tabernacle
November 9, 2000 Orlando United States Hard Rock Live
November 10, 2000 Tampa United States USF Sundome
November 11, 2000 Sunrise United States Sunrise Musical Theatre
November 13, 2000 Greensboro United States War Memorial Auditorium
November 15, 2000 Philadelphia United States Electric Factory Ballroom
November 16, 2000 Philadelphia United States Electric Factory Ballroom
November 18, 2000 Toronto Canada Massey Hall
November 19, 2000 Rochester United States Blue Cross Arena
November 21, 2000 Fairfax United States Patriot Center
November 22, 2000 Lowell United States Tsongas Arena
November 24, 2000 New York City United States Hammerstein Ballroom
November 25, 2000 New York City United States Hammerstein Ballroom
November 28, 2000 Detroit United States State Theatre
November 29, 2000 Cobo United States Arena
December 1, 2000 Madison United States Dane County Expo
December 2, 2000 Chicago United States UIC Pavilion
December 4, 2000 Indianapolis United States Murat Center
December 5, 2000 Toledo United States Toledo Sports Arena (Cancelled)
December 7, 2000 Columbus United States Veterans Memorial Auditorium
December 8, 2000 Cleveland United States CSU Convocation Center
December 9, 2000 Pittsburgh United States Mellon Arena
December 11, 2000 Peoria United States Peoria Civic Center
December 12, 2000 Omaha United States Omaha Civic Auditorium (Cancelled)
December 13, 2000 Valley Center United States Kansas Coliseum
December 15, 2000 San Antonio United States Freeman Coliseum
December 16, 2000 Dallas United States Bronco Bowl
January 3, 2001 Vancouver Canada Queen Elizabeth Theatre
January 5, 2001 Portland United States Arlene Schnitzer Concert Hall
January 6, 2001 Seattle United States Mercer Arena
January 10, 2001 San Jose United States Event Center Arena
January 11, 2001 Santa Barbara United States Arlington Theater
January 13, 2001 Los Angeles United States Universal Amphitheatre

Europe

January 21, 2001 Birmingham England National Exhibition Centre
January 22, 2001 Manchester Evening News Arena
January 24, 2001 London Docklands Arena
January 25, 2001 Paris France Zenith de Paris
January 27, 2001 Bilbao Spain PabellOn de La Casilla
January 28, 2001 Barcelona PavellO de la Vall d'Hebron
January 31, 2001 Hamburg Germany Alsterdorfer Sporthalle
February 1, 2001 Cologne Palladium
February 3, 2001 Milan Italy Fila Forum
February 5, 2001 Marino Palaghiaccio di Marino
February 6, 2001 Bologna PalaMalaguti
February 8, 2001 Zurich Switzerland Hallenstadion
February 10, 2001 Vienna Austria Libro Music Hall
February 11, 2001 Prague Czech Republic Paegas Arena
February 13, 2001 Warsaw Poland Torwar Hall
February 15, 2001 Berlin Germany Velodrom
February 16, 2001 Copenhagen Denmark Forum Copenhagen
February 17, 2001 Oslo Norway Oslo Spektrum
February 19, 2001 Stockholm Sweden Ice Stadium
February 21, 2001 Helsinki Finland Helsinki Ice Hall
February 24, 2001 Moscow Russia Olympic Stadium (Rescheduled from February 23, 2001)

Asia

March 11, 2001 Tokyo Japan Tokyo International Forum
N/A March 13, 2001 Osaka Osaka Castle Hall
March 14, 2001 Nagoya Nagoya Century Hall
March 15, 2001 Fukuoka Fukuoka Sun Place
March 17, 2001 Hiroshima Hiroshima Sun Plaza Hall
March 19, 2001 Tokyo NK Hall
March 20, 2001 Tokyo NK Hall
March 22, 2001 Nagoya Nagoya Century Hall

Ozzfest

June 8, 2001 Tinley Park United States New World Music Theatre none
June 9, 2001 East Troy United States Alpine Valley Music Theatre
June 12, 2001 Noblesville United States Verizon Wireless Music Center
June 13, 2001 Noblesville United States Verizon Wireless Music Center
June 18, 2001 Maryland Heights United States Riverport Amphitheater
June 19, 2001 Bonner Springs United States Sandstone Amphitheater
June 22, 2001 Denver United States Mile High Stadium
June 25, 2001 George United States The Gorge Amphitheatre
June 27, 2001 Wheatland United States Sacramento Valley Amphitheatre
June 30, 2001 Devore United States G.H. Blockbuster Pavilion
July 3, 2001 Selma United States Verizon Wireless Amphitheater
July 5, 2001 Dallas United States Smirnoff Music Center
July 7, 2001 Atlanta United States HiFi Buys Amphitheatre
July 13, 2001 West Palm Beach United States Mars Music Amphitheater
July 14, 2001 St. Petersburg United States Tropicana Field
July 17, 2001 Charlotte United States Verizon Wireless Amphitheater
July 20, 2001 Bristow United States Nissan Pavilion
July 21, 2001 Camden United States Blockbuster Sony-E Center
July 24, 2001 Toronto Canada The Docks
July 26, 2001 Cuyahoga Falls United States Blossom Music Center
July 28, 2001 Burgettstown United States Post-Gazette Pavilion
July 30, 2001 Clarkston United States DTE Energy Music Theatre
July 31, 2001 Clarkston United States DTE Energy Music Theatre
August 3, 2001 Columbus United States Polaris Amphitheater
August 5, 2001 Hartford United States Meadows Music Theatre
August 7, 2001 Mansfield United States Tweeter Center for the Performing Arts
August 8, 2001 Mansfield United States Tweeter Center for the Performing Arts
August 11, 2001 Holmdel Township United States PNC Bank Arts Center
August 12, 2001 Holmdel Township United States PNC Bank Arts Center

Asia

August 18, 2001 Osaka Japan Summer Sonic Festival
August 19, 2001 Tokyo Summer Sonic Festival

Europe

August 22, 2001 Porto Portugal Ilha do Ermal Festival
August 24, 2001 Leeds United Kingdom Carling Weekender
August 25, 2001 Glasgow United Kingdom The Gig on the Green
August 26, 2001 Reading United Kingdom Reading Festival
August 29, 2001 Ljubljana Slovenia Rock Festival
August 30, 2001 Vienna Austria 2 Days a Week
September 1, 2001 Konstanz Germany Rock am See
September 2, 2001 Hildesheim M'era Luna Festival

North America

October 8, 2001 Los Angeles, California, USA Grand Olympic Auditorium